History

Behind every success, is a story to behold - this is true whether you're referring to individuals or even to establishments and gargantuan corporations in any industry. Sometimes, the history of establishments may even give you a glimpse of just what the establishment is all about. Crystal Park Casino is one of the establishments with a deep story to tell and with its reputation, grandeur and outstanding operation in the Compton, California in the United States, it's plain to see why many individuals are intrigued and piqued to know more about how it came to be, how it is today and what it offers to its visitors.
The Crystal Park Casino isn't the most grand and high-class Casino Hotel you'll meet in your lifetime, but it's definitely going to be the safest, most secure, relaxing and undoubtedly most exciting place to be whether you're a wager or a regular visitor of the state. This is made pretty evident right from the get go with the background and history of the establishment dating back its foundation on 1989. With the fact that this establishment has been long-standing in the industry since 1989, it is easy to conclude that it has definitely done all the right things to remain reputable and trustworthy in the eyes of the fickle public.
Of course, all things must come to an end and in the case about the hotel history of Crystal Park Casino, it has experienced a unique transition as it ended its first phase of success with the mark of its gargantuan renovation. However, this step is definitely one of the wisest and boldest move of the casino resort as it aims to provide a more outstanding experience to its visitors who are die-hard looking for places to enjoy and relax on. The renovation of this outstanding establishment occurred back in the year 2005 and has now resulted in a 9-floor building filled with topnotch, yet affordable rooms with casino space possessing over 35 games to play with.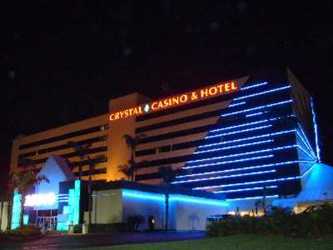 The establishment has set its check-in time at 3:00 in the Afternoon with check-out time at 12:00 noon. It has maintained its reputation and in fact, improved its stature in the industry even higher through tons of activities available within their building. You can either play at their waging sector, their game room, or take a rejuvenating trip to their Health Spas and Clubs, Dip in a relaxing hot tub or enjoy an exciting time in the outdoor pool.
The rooms of the establishment, though incredibly affordable with their rate ranging from $79 to $84, are incredibly well-equipped to provide the most convenient time for visitors. The hotel also provides different types of discounts for their rooms in the form of Travel Agent Discounts, Airline Personnel Discounts, AARP, Government/Military, Group and Corporate Discounts. The Crystal Park Casino Hotel History is undeniably a rich ride with lots to learn about. It is also plain to see that the establishment has managed to use its hotel history wisely in order to provide better experience to its regular and aspiring visitors across the globe.